1. Immediate restoration of the warehouse!
1.Sofortige Wiederherstellung des lagerraumes
2. repeated deterioration ! WITHOUT PRELIMINARY!
2. Wieder einführung von Verschlechterung! OHNE VORWAHNUNG!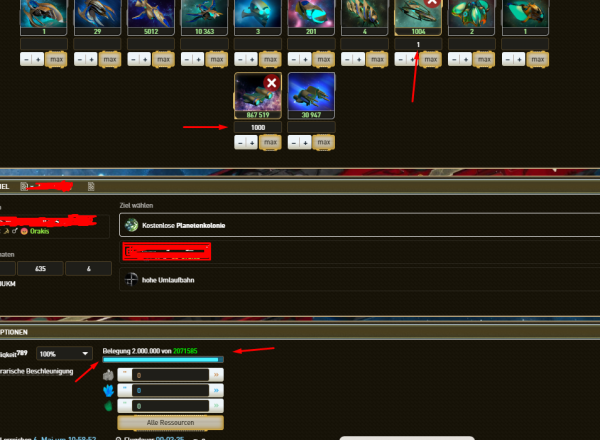 3. Upgrade or customization does not insist on plus minus 50 -200% No, it destroys the unit.
3. Upgrade oder anpassen besteht nicht auf plus minus von 50 -200% Nein das ist vernichten der Einheit.
4. I still buy expensive officers, finance them with this. Then change the speed from 250 to 150. Now I don't need to build more aircraft carriers! TOP Looking forward to more posts tonight after work. And you know that I don't make money from handyman services, how she takes money out of the pockets of the players and rips them off every day with new ones. Too bad you can't learn it. But you really should turn the faucet on them. If I worked like you, I wouldn't have a job to invest in your game...
4. Wie damals ich kaufe teure Offiziere, finanziere Sie damit. Dann ändern die von 250auf 150 die Geschwindigtkeit. Nun brauche ich keine Trager mehr bauen! TOP Sie können sich auf weitere Beiträge heute abend nach der Arbeit Freuen. Und wissen Sie ich verdiene mein Geld mit Dienstleistungen als Handwerker nicht wie sie der Spielern das Geld aus der Tasche zieht und Sie jeden Tag aus neue verarscht. Es ist Schade das Sie es nicht lernen. Aber Man muss Ihnen wirklich den Geldhahn zu drehen. Wenn ich so arbeiten würde wie Sie hätte ich keine Arbeit um Geld in ihr Spiel zu stecken ...
Hi Orakis,
as you contacted me to vote in senate or to leave, allow me this comment on your questions. Maybe, some senators do not vote because of the badly formulated questions.
1. Storage of carriers
Yes, ok - As I don't believe the devs woke up in the morning and decided to cut the storage I think there was a reasoning behind. It would be of advantage if they gave more explanations about the rule changes. Maybe it would become more understandable. But ok. Would voted yes.
2. i don't understand what you are asking for. It might be a translation problem as different browsers do sometimes autotranslate or not. This is what I get:
https://prnt.sc/81umBy9zBsMH
It just makes no sense.
3. Same here
4. yes. have the same feeling. But this is not a question. What do you expect from the people to vote?
I would love to see one question per threat. One and only one question properly formulated.
From this case:
1. OK
2. ?
3. ?
4. Not a question
Should I now vote in favor or against. Or, for other questions. I agree with (for example) 1 and 3 and disagree with 2. What to vote?
SO ONE QUESTION AT A TIME - WELL FORMULATED WITH EXPLICATIONS SO THAT THE TRANSLATORS HAVE A CHANCE TO DO THEIR JOB ;)
So make one question: I would like to bring the storage from carriers back to 3 000 000 as default or base value (or whatever, I am not completly in...) Tell specific values. (Not back to old values. What old values? Those that were actual 10 years ago?)
And Orakis: I don't know you, so please, don't take this personal. 90% of the senators requests are just right from the beginning "bullshit". You read them and know exactly, that will not come to result.
Hallo Orakis,
weil Du mich kontaktiert hast mit der Begründung ich solle doch antworten oder den Senat verlassen, erlaube mir diesen Kommentar zu Deinen Fragen.
1. Lagerräumer der Träger
Ja, von mir aus. Da ich nicht davon ausgehe, dass die Devs morgens aufgewacht sind und sich dachten: ja, hey: Heute kürzen wir mal die Lager Kapazitäten der Träger sage ich da wird wohl eine Überlegung dahinter gesteckt haben. Würden die Devs auch mal einen Kommentar abgeben, dann wären viele Änderungen auch mal verständlicher und nicht so willkürlich. Aber ok. Ich hätte dann hier Yes gestimmt.
2. Ich verstehe einfach nicht was du da fragst. Es mag an den Übersetzern liegen die je nach Browser mal automatisch übersetzen oder nicht, aber der Punkt macht einfach keinen Sinn. Um Klarheit zu schaffen: Hier das kommt bei mir an:
https://prnt.sc/81umBy9zBsMH
3. Idem
4. Ja, stimmt. Denke das gleiche. Aber das ist keine Frage. Was sollte man hierauf wählen?
Ich würde mir wünschen, es käme eine Frage pro Threat. Diese Frage sollte ausführlich formuliert sein.
Aus dieser Frage ergibt sich:
1. OK
2. ?
3. ?
4. Keine Frage
Wie soll ich nun abstimmen? Bin ich dafür oder dagegen? Oder, sagen wir in einem anderem Threat (Beispiel). Ich bin für 1 oder 3. 2 bin ich dagegen? Was wählt man in so einem Fall?
ALSO: 1 FRAGE PRO THREAT. DIE SOLL MÖGLICHST GENAU FORMULIERT SEIN. DANN KOENNEN DIE UEBERSETZEN AUCH IHRE ARBEIT TUN ;)
Also bitte: Einen Threat: Ich möchte die Träger Kapazität zurück auf 3 000 000 haben (als Beispiel, bin da nicht drin). Also nicht zurück auf die "alten Werte". Welche alten Werte? Die vor 3 Jahren?
Und bitte Orakis: Ich kenne dich nicht. Nimm das bitte nicht persöhnlich aber ich bin genervt über das ganze "Sentoren" System. 90% der Anfragen sind einfach von vornerein unnütz, weil du liest sie und denkst dann: was soll denn jetzt da rauskommen.
And here a russion translation (sorry, can't read cyrillic - if I summoned a demon, sorry)
Und hier noch eine russische Übersetzung (sorry, kann kein kyrillisch, Wenn ich einen Dämonen herbei rufen sollte: Dann sorry)
Здравствуйте, Оракис,
поскольку вы обратились ко мне, сказав, что я должен ответить или покинуть сенат, позвольте мне прокомментировать ваши вопросы.
1. акционирование портеров
Да, от меня. Поскольку я не предполагаю, что разработчики проснулись утром и подумали: да, эй: сегодня мы собираемся сократить запасы носильщиков, я бы сказал, что за этим должно было стоять какое-то соображение. Если бы разработчики также комментировали, то многие изменения были бы более понятными и не такими произвольными. Но ладно. Здесь я бы проголосовал "Да".
2. Я просто не понимаю, о чем вы спрашиваете. Это может быть связано с тем, что переводчики переводят автоматически в зависимости от браузера, но смысл просто не имеет смысла. Поясню: Вот что мне приходит на ум:
https://prnt.sc/81umBy9zBsMH
3. idem
4. да, верно. Думайте одинаково. Но это не вопрос. Что нужно выбрать в этой теме?
Я бы хотел, чтобы в каждой теме задавался один вопрос. Этот вопрос должен быть сформулирован подробно.
Из этого вопроса вытекает:
1. ОК
2. ?
3. ?
4. нет вопроса
Как я должен голосовать сейчас? Я за или против? Или, скажем, в другой теме (пример). Я за 1 или 3. 2 я против? За что вы проголосуете в таком случае?
ИТАК: 1 ВОПРОС НА ОДНУ УГРОЗУ. ОН ДОЛЖЕН БЫТЬ СФОРМУЛИРОВАН КАК МОЖНО ТОЧНЕЕ. ТОГДА ПЕРЕВОДЧИКИ СМОГУТ СДЕЛАТЬ СВОЮ РАБОТУ ;)
Итак, пожалуйста: одна угроза: Я бы хотел, чтобы вместимость носителя вернулась к 3 000 000 (как пример, меня там нет). То есть не возврат к "старым значениям". Какие старые значения? К тем, что были 3 года назад?
И пожалуйста, Оракис: я вас не знаю. Пожалуйста, не принимайте это на свой счет, но меня раздражает вся эта система "sentoren". 90% запросов просто бесполезны с самого начала, потому что ты читаешь их, а потом думаешь: что из этого должно получиться?
Und ich stelle mir auch die Frage ob man nicht sagen sollte: Um Premium zu werden, sollten man 2 Jahre im Spiel dabei sein (nicht unbedingt Premium, aber zumindest Mitglied sein) um Senator zu werden. So wäre dann sicher gestellt, dass man zumindest die Grundverständnisse vom Spiel hat.
And I wonder: Would it not be a good idea that you can only become senator if you are more to 2 years registered in the game (not necessarly Premium but at least registered)? That would at least certify a certain knowledge about the game.
И мне интересно: Не будет ли хорошей идеей, если вы сможете стать сенатором, только если вы зарегистрированы в игре более 2 лет (не обязательно премиум, но хотя бы зарегистрированы)? Это, по крайней мере, подтвердило бы определенные знания об игре.
Привет Пункт 1 относится к голосованию!
Hallo Punkt 1 bezieht sich auf die Abstimmung !


Пункты 2-4 предназначены для "администрирования"
Punkte 2-4 sind für die "Verwaltung"
Information
You are not authorized
1 users are reading the topic (guests: 1)
Users: 0