The Bugs forum thread is not just for reporting bugs to the administration. It is intended to solve technical problems encountered in the game. Before creating a topic, you should check to see if there is a topic with the bug that you want to report. In order to report bugs or glitches, you can create a new thread instead of writing in the existing threads. Topics with the title Bug, Glitch will not be considered. Try to put a brief description of your problem in the title of the topic. If the problem described above occurred on another account, be sure to specify the account where it occurred.
I'm getting ready to disassembly a planet.
All the time being in the game I was thinking that disassembly or destroying of the building will return 10% of the cost of the building or current level that I'm going to destroy.
But when it came to planet disassembly I got such amount of garbage proposed:
https://prnt.sc/tmt4q1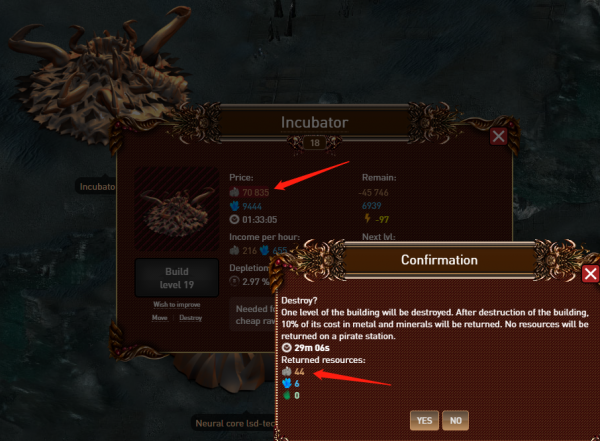 I can see cost for upgrade around 70 000 then we can think current level cost is around 35k (most buildings price increase from 1.8 to 2 times) then I try to apply 10% to left and right side of that number,
then top then bottom...
I think that is some kind of bug... but... then I got another idea...
I decide that I know nothing about space mathematics or missed some space unit converter somewhere...
If anybody knows how to calculate 10% in space... please teach me.
Thanks.
--------------------------------------------------------------------------------
------------------------------------------
update
: it is fixed now. thanks.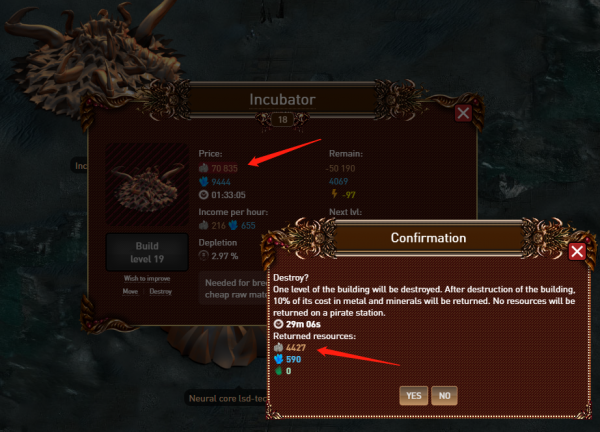 Third class award
This award can be exchanged for fleet award. It is issued for assistance in addressing bugs in game.
Reward issued by: Семен
I think that you were looking at the cost of the next level (70K metal, 9K mineral), and the garbage for destroying the current level (44 metal, 6 mineral) and there is no gravity in space, so it all turns into 0 after a while, because the numbers float away. Space math is neat.
Information
You are not authorized
2 users are reading the topic (guests: 2)
Users: 0